Project: Non-Profit Website Redesign
When I began work on worldreader.org, it was nearly four years old, a WordPress site cobbled together by volunteers and the marketing team on the fly as the organization grew rapidly from two expats in Barcelona to an award-winning 50-person EdTech NGO in four continents. The organization needed a website that reflected its expansive vision and accomplishments.
I started with a redesign of the blog, Google Analytics updates, and fundraising pages and fixes and then worked closely with Worldreader's Director of Marketing on a full theme redesign and modernization.
I worked quickly but carefully, salvaging parts of the existing theme worth keeping while recoding it to make the site mobile-responsive. I dramatically improved page load times and conversion rates, replaced unnecessary and out-of-date plugins, and added numerous visually appealing custom page templates (seamlessly translating mockups when available) and marketing tools.
We used data to drive key decisions.
---
Worldreader values transparency and has published impact numbers, financials, and PDF versions of its monitoring and evaluation (M&E) reports on its website since its founding.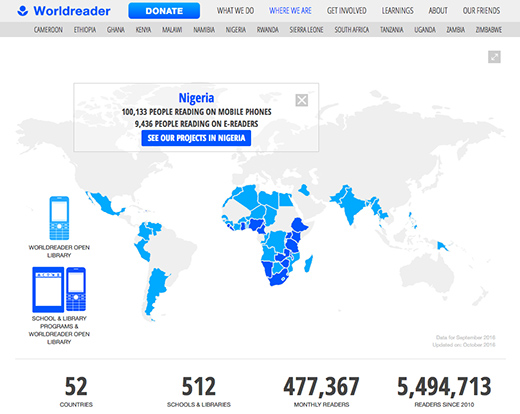 In 2015, I transformed selected reports to interactive pages on the website, making the data come alive.